Today we have Dr. Fermin F. Barrueto, Clinical Associate Professor of EM here at U-Maryland and all-around tox guru, to share his wisdom on the topic of critical care toxicology. Over the last 10 years Dr. Barrueto has seen nearly every type of poisoning as head of our medical toxicology consult service. Over the next hour he will give you tips and tricks on what to look for to make the diagnosis easy and allow you to avoid costly errors of management. He even introduces the newest antidote on the block: lipid emulsion therapy. I implore you to watch this lecture more than once, because it's not a matter of IF you will see these toxidromes, but WHEN!
Podcast: Play in new window | Download
Subscribe: Apple Podcasts | Android | RSS
Anticholinergic Toxidrome:
"Blind as a bat, mad as a hatter, red as a beet, hot as Hades, dry as a bone, the bowel and bladder lose their tone, and the heart runs alone." (Mydriasis, hallucinations, flushed, hyperthermia, dry skin, ileus, urinary retention and tachycardia.)
Treatment: Physostigmine 0.5-2mg slow IV over 2-5 min (0.02mg/kg IV)
Cholinergic Toxidrome: 
DUMBBELLS – Diarrhea, Urination, Miosis, Bradycardia, Bronchorrhea/Bronchospasm, Emesis, Lacrimation, Lethargy and Salivation and seizures
Treatment: Antimuscarinics (Atropine)
ICU Hyperthermia
1) Serotonin Syndrome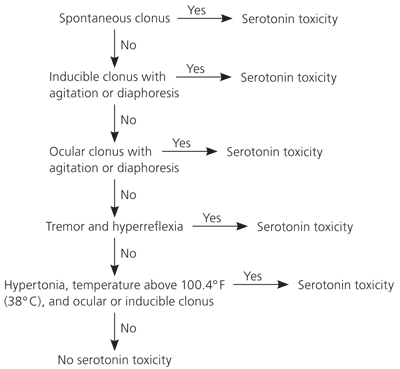 Dunkley EJ et al. QJM. 2003;96(9):639.
Treatment: #1 Supportive care, #2 Benzos, Cyproheptadine (antihistamine, anticholinergic, serotonin blocking)
2) Malignant Hyperthermia
Usually due to inhalational anesthetics (immediate in OR)
Hypercatabolic syndrome due to MASSIVE calcium influx from sarcoplasmic reticulum (SR)
Treatment: Dantrolene (allows calcium reuptake to SR!)
3) Neuroleptic Malignant Syndrome
Antipsychotics (usually older, ex: Haldol) due to an antidopaminergic effect
Lead pipe rigidity is distinguishing
#1: Benzos, #2 Dantrolene (but not proven), then Dopaminergics: Bromocriptine or Amantadine
Acetaminophen Toxicity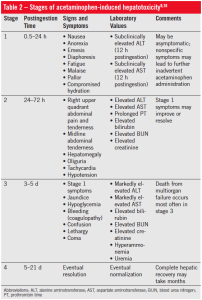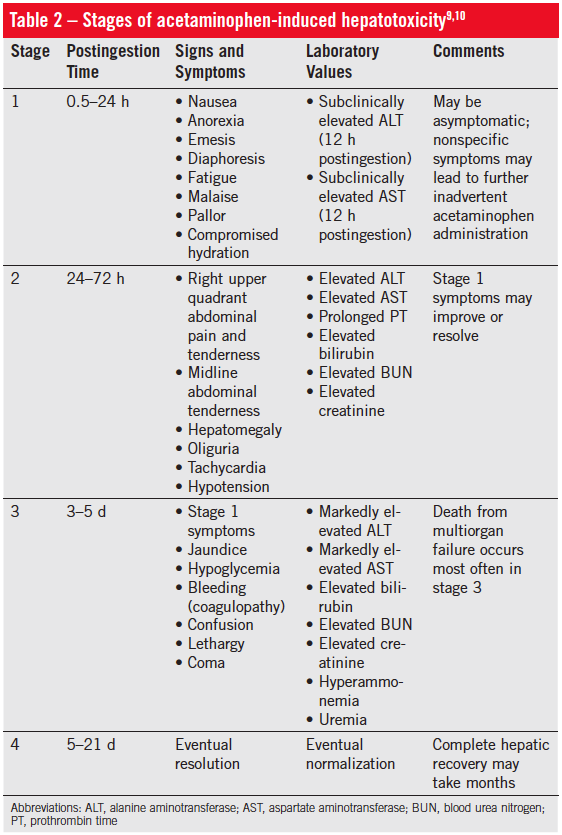 www.pediatricsconsultant360.com

Treatment: N-acetylcysteine: 100% effective in 1st 8-10hrs
↓ Phosphate implies survival
Lipid Emulsion Therapy
Anecdotal evidence in CCB and local anesthetic overdoses
Additionally: augments hemodynamic stability (↑BP, positive ionotropy, and rhythm improvement)

Dose

: 1.5ml/kg of 20% lipid emulsion, repeated in 15 mins and then start a 0.25ml/kg/min gtt