You are on call for the Cardiac Surgery ICU when you receive notification that a new patient is in en route…..
Mr. AZ is a 68 year old male patient with a history of ischemic cardiomyopathy and an EF of 25% is being transferred from an outside hospital for LVAD evaluation.  He had a total hip replacement approximately two weeks prior, and was recovering in a nursing home facility. He found on the floor with altered mental status, and on arrival to the Emergency Department, was found to have a blood pressure of 60s/30s .  He was intubated and started on high doses of vasopressors.  He reportedly had multiple AICD shocks for recurrent ventricular tachycardia, and was recently initiated on amiodarone.
On arrival you do a quick evaluation:
The patient is obtunded, febrile, and on high dose pressors.
He is mechanically ventilated requiring an FiO2 of 40% and PEEP of 5 cmH2O.
His rhythm is irregular and his lung exam reveals crackles bilaterally.
ECG shows atrial fibrillation without ischemic changes.
Chest X-ray shows a possible right lower lobe infiltrate, but no overt pulmonary edema.
A transthoracic echocardiogram shows baseline left ventricular function, with an EF of 25% and normal valvular function.
AICD interrogation shows that it had not fired with no evidence of ventricular tachycardia.
You decide to continue the patient's amiodarone for atrial fibrillation.  Due to the high dose pressors and the possible relative adrenal insufficiency, you also decide to start stress dose hydrocortisone which results in a moderate degree of hemodynamic improvement.  Broad-spectrum antibiotics are continued, however the next morning you notice that the patient still has persistent fevers and poor mental status.  All cultures remain negative.
You take a step back and try to think about what to do next….  The patient is in shock, but his clinical course does not fit into a typical septic or cardiogenic picture, and he is not improving with conventional therapies.  Are there other causes of shock that you are missing?

Answer:
Vasodilatory: sepsis, anaphylaxis, neurogenic
Obstructive: tension ptx, tamponade, pulmonary embolism/li>
Cardiogenic: arrhythmia, ischemia, valvulopathy, myopathy
Hypovolemic: hemorrhage, dehydration, cirrhosis, pancreatitis, burns
Toxicological: CCB, BB, clonidine, digoxin, opiates, sedatives, TCA
Metabolic/Endocrine: adrenal insufficiency, hypo/hyperthyrodism
In particular, unless the history is obvious, toxicological and metabolic/endocrine etiologies may not initially be considered.  The clinical highlights of this case include hemodynamic improvement with steroids, persistent fevers on antibiotics with negative cultures, persistent poor mental status, new atrial fibrillation on amiodarone, and possibly, recent hip surgery.
These features suggest a possibly diagnosis of thyroid storm. You obtain thyroid studies, showing a TSH of <0.01, free T3 of 8.8 (2-4.4), and free T4 >7 (0.6-2.5) confirming your diagnosis.  The patient was initiated on treatment and his amiodarone was discontinued.  He was weaned off vasopressors and extubated with normal mental status 6 days later.
Thyroid storm
Thyroid storm accounts for 1-2% of hospital admissions for thyrotoxicosis, It is usually is an extreme manifestation of Grave's disease or toxic multinodular goiter.  It is a deadly disease if unrecognized, with a 10-30% mortality.  There are numerous case reports describing atypical presentations, involving all areas of critical care medicine.  Reports of thyroid storm presenting as status epilepticis, stroke, arrhythmia, jaundice, acute abdomen, and multi-system organ dysfunction can be found in the literature.  The diagnosis is clinical, and supported by a scoring system in which points are given for the degree and severity of clinical manifestations: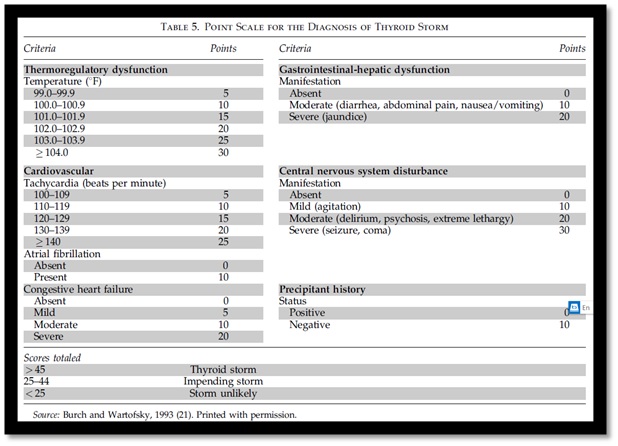 Shock in thyroid storm is probably multifactorial, and related to the combination of adrenal, cardiac, and liver dysfunction.  In addition, insensible fluid losses from fever, diarrhea, and possibly underlying infection also may contribute to hypotension.
There are several means of treatment:
Block

thyroid hormone synthesis

Thionamides (propylthiouracil and methimazole)

Block

thyroid hormone release

Lugol's Iodine solution (must be given >1 hour after thionamide)
Lithium (inhibits iodination of tyrosine residues)
Cholestyramine (blocks reabsorbtion of thyroid hormone from enterohepatic circulation)

Block

peripheral effects of thyroid hormone

Block

peripheral converstion of T4 to T3

Propylthiouracil (also called PTU)
Propranolol
Steroids: Hydrocortisone or Dexamethasone

If conventional therapies fail or contraindications exist, consider plasma exchange

Removes TBG-TH complexes

from circulation
Provides a

colloid replacement

that acts as a binding site for circulating thyroid hormone
Finally, supportive care and treating possible precipitating causes is paramount:
Fluids and vasopressors may be needed for hemodynamic support.
Evaluating for infection, cardiac ischemia, and pregnancy are important.
Avoiding or discontinuing potentially thyroid toxic medications, such as amiodarone, is necessary.
It is important to remember that in general, routinely testing thyroid function in the intensive care unit is not recommended.  TFTs usually reveal the euthyroid sick syndrome, with slightly low or normal TSH, and decreased T3 and T4.  There is controversy to whether this syndrome reflects an adaptive or pathological change; however, routine treatment is not recommended.
Thyroid storm is a rare, but life-threatening disease that is important to recognize. Thyroid function testing should be pursued when there is a reasonable clinical suspicion that the patient's primary problem is due to thyroid dysfunction.  In addition, when a clinical scenario does not completely make sense, or when a patient fails to improve with the initial treatment plan, it should at least be considered as a potential cause of critical illness.