A 52 year old male is admitted to your ICU with complications related to his LVAD.  He is hypotensive & having intermittent ventricular tachycardia on the monitor.  He has a HeartWare LVAD, so you ask the nurse to go and grab an external monitor.  Once connected, you see the following….
Based on the information above, what is your differential diagnosis?  What other tests should you consider?  How should you manage this patient?

Diagnosis:  This patient is having a suck down event, most likely secondary to hypovolemia
The monitor above shows a classic finding for a suction event, where the interventricular septum is intermittently occluding the VAD's inflow cannula causing a brief reduction in both flow & power.  As you can see on the monitor, initially, some pulsatility remains when there is intermittent suction, but as the frequency of events increases, the waveform pulsatility, power, & flows decrease.
Suck down events can occur in the presence of:
Hypovolemia (common)
Inappropriately high RPM settings (speeds above 3200 RPMs may increase risk of suckdown)
Inflow cannula thrombus causing intermittent occlusion
Inflow cannula malposition
Tamponade
Persistent arrhythmias or pulmonary hypertension leading to right heart failure or a reduction in LV return
Hypovolemia:  In the hypotensive LVAD patient, always start with early volume resuscitation – this will most likely improve LV filling and stop suck down from occurring.
Arrhythmias: While a primary ventricular arrhythmia (intrinsic to the patient's own conduction system) can cause decreased LV return leading to a suction event, it is more likely that the arrhythmia is being directly caused by LVAD (septal distortion) and will be effectively managed by addressing the suction event itself.
Get an ECHO (or even better, do one yourself!): On bedside echocardiogram, an LV cavity size that is equivalent to the VAD inflow cannula indicates a suckdown event is likely occurring. May also visualize other causes of low flow, including thrombus, inflow cannula malposition, or tamponade.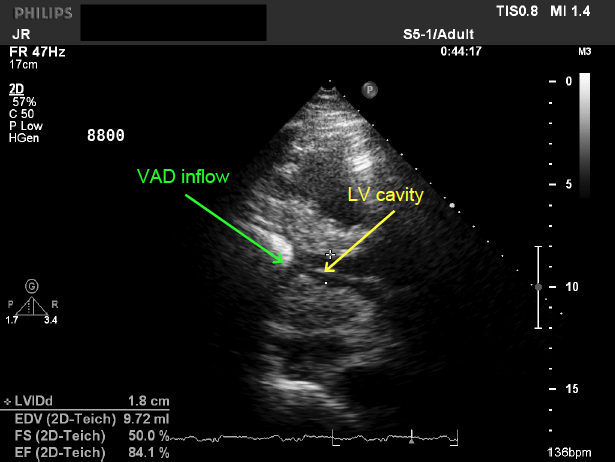 Suggested Reading
Vollkron M, Voitl P, Ta J, et al. Suction events during left ventricular support and ventricular arrhythmias. J Heart Lung Transplant 2007;26:819–25.
Slaughter MS, Pagani FD, Rogers JG, et al. Clinical management of continuous-flow left ventricular assist devices in advanced heart failure. J Heart Lung Transplant 2010;29(4 suppl):S1–39.