Dr. Sarah Murthi is a surgeon by trade and US enthusiast at heart. She is an expert in bedside echocardiography and is also the Director of the Shock Trauma Critical Care Ultrasonography group. In this talk, Dr. Murthi goes through the evaluation and diagnosis of diastolic dysfunction as well as some clinical pearls and pitfalls one can encounter in the critically ill patient.

Review & Summary by Dr. Rabin Shrestha
Diastolic Dysfunction
Defined: Diastolic function describes the relaxation phase of the cardiac function.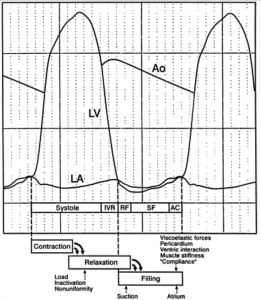 Diastole Dissected (4 phases)
Isovolumetric relaxation (IVR): Initial phase of filling, mitral valve (MV) opens
Rapid filling (RF): Ventricles actively and rapidly fill (ATP requiring process!)
Slow filling (SF)
Atrial contraction (AC): Pushes blood into ventricle
Measuring diastolic dysfunction
View 1: Apical 4 chamber view, pulse wave Doppler
Measurements: Early or E wave and the atrial or A wave

E wave: represents the volume of blood that fills the ventricle during early filling phase (RF & SF)
A wave: represents the portion of stroke volume that occurs due to the AC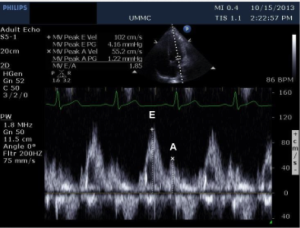 View 2: Apical 4 chamber view, lateral MV annulus with tissue Doppler
Measurements: The two peaks corresponding to the E and A waves are the e' and a' waves.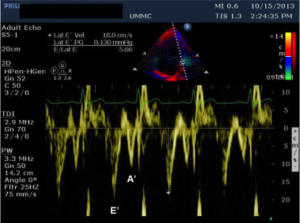 Interpretation
Normally E/A ratio is greater than 1
In diastolic dysfunction E/A ratio becomes <1
As diastolic dysfunction progresses, the E/A ratio Pseudo-normalizes and then overshoots the other way.
Suggested Readings
Nishimura RA, Tajik AJ. Evaluation of diastolic filling of left ventricle in health and disease: Doppler echocardiography is the clinician's Rosetta Stone. J Am Coll Cardiol. 1997;30(1):8-18. [PubMed Link – Free Access]