Today we are fortunate to have the combined mental powers of two of the greatest minds in the field of therapeutic hypothermia. First you will hear from Nirav Shah, Assistant Professor of Medicine and current Program Director for the Pulmonary and Critical Care Fellowship at the University of Maryland. Using a vast knowledge base on the topic as well as years of scientific research, Dr Shah has combed through thousands of articles to give you only the most relevant and up to date look at hypothermia for cardiac arrests.
In addition, you will then hear from Neeraj Badjatia, Associate Professor of Neurology at the University of Maryland, Director of the Neurosurgery Critical Care Unit, Program Director for the Neurocritical Care Fellowship AND one of the world's leading experts in the field of hypothermia. Dr. Badjatia is a recent addition from Columbia University and he shares over a decade of groundbreaking research and knowledge on the use of hypothermia for neurological disasters.
You would have to travel the globe to find a more concise and useful guide to Hypothermia all in one hour. This is one talk you CANNOT afford to miss!
Podcast: Play in new window | Download
Subscribe: Apple Podcasts | Android | RSS
Review and summary by Dr. Rabin Shrestha 
Dr. Shah's contribution:
Hypothermia is classified as:
Mild (32-35°C)
Moderate (28-32°C)
Severe (20-28°C)
Profound (<20°C)
Therapeutic hypothermia Indications
Evidence proven

:

Out of hospital cardiac arrest
Neonatal Hypoxia-ischemia

Controversia

l:

Traumatic brain injury
Hemorrhagic shock
Ischemic stroke
Septic shock
Acute lung injury
Three phases of treatment:
Induction – rapidly cooling; sedate and possibly paralyze
Maintenance – standard 12-24 hours
Rewarming – rewarm slowly –

most dangerous period

: hypotension, cerebral edema, seizures
Important studies for therapeutic hypothermia:
Bernard et al. NEJM 2002

Randomized non-blinded Australian study N= 43 hypothermia; N=34 normothermia
Population V-fib or pulseless V-tach, comatose
Primary outcome: survival with good neurologic function
Maintained at 33⁰C for 12 hours and rewarmed after 6 hours
49% vs 26% had moderate to good neurologic outcomes in favor of hypothermia

Hypothermia after Cardiac Arrest Study Group. NEJM 2002

Randomized control trial in Europe N = 137 hypothermia, N= 138 normothermia
Population V-fib or pulseless V-tach, comatose
Primary outcome – favorable neurologic outcome in 6 months
32 ⁰C– 34⁰ C for 24h and rewarmed over 8 hours
55% vs 39% in favor of hypothermia

Neilsen et al. NEJM 2013

Prospective study in 36 ICUs in Europe and Australia
Inclusion – Out of hospital cardiac arrest irrespective of rhythm
33⁰C vs 36⁰C, multiple cooling methods; rewarmed after 28h
Primary outcome – All cause mortality at end of trial
No difference in all-cause mortality (approx. 50%) or combined end point of mortality + neurologic outcome at 6 months

Kim et al. JAMA 2014

Randomized trial in USA
Prehospital cardiac arrest cooled with 2 L of 4⁰C normal saline
Temperature goal <34⁰C, stratified to with and w/o V-fib
No difference in survival or neurologic outcome

Increased rearrest and pulmonary edema in hypothermia group
Take home points:
Not all black and white
Hypothermia still is an important tool in neurologic preservation post arrest
Keeping patient afebrile post arrest may be more important that hypothermia
Dr. Badjatia's contribution:
Neurologic outcomes

in key studies on therapeutic hypothermia have

not been well defined

in most studies
Studies are

complicated by high rates of withdrawal of care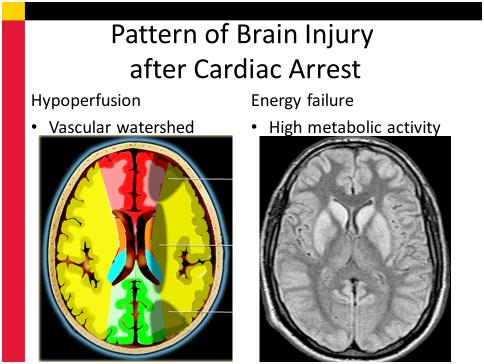 Prognostication:
Neurologic exam

Best predictor of brain injury
Day 3 exam traditionally considered best

Hypothermia has changed timing

due to effect of temperature on sedatives/physiologic response

Electrophysiological tests

EEG – provides

pattern of injury

, impacted by sedation and motor activity
SSEP (somatosensory evoked potential) – provides information about the

reticular activating system

Biomarkers – neuron specific enolase being the most reliable predictor
Neuroimaging – CT scan and MRI
Take home points:
Hypothermia complicates interpretation of neurologic prognosis typically done at 72 hours

Multimodality approach

that includes exam, electrophysiological tests, biomarkers and imaging will likely provide the best assessment
Overall prognosis needs to be tailored to patent specific factors