Lewis Rubinson, MD, PhD is Director of the Critical Care Resuscitation Unit at R Adams Cowley Shock Trauma Center at the University of Maryland. He recently spent a month in Sierra Leone providing clinical care to patients with Ebola as a WHO consultant. At Kenema Government Hospital, he was one of only two physicians providing daily care for upwards of 130 patients with confirmed Ebola. During his talk, he will dispel myths about the disease that have been propagated by the lay press and describe what lessons we can bring back from resource-limited settings to help provide care to these patients in the United States.
Podcast: Play in new window | Download
Subscribe: Apple Podcasts | Android | RSS
History of Ebola Outbreaks
Ebolavirus was first discovered and diagnosed in 1976 in Uganda. This was part of the Gulu outbreak where 425 patients were infected. Since that time there have been over 20 documented outbreaks. These outbreaks have been small, and were typically in rural environments where control measures were effective at limiting the extent of disease spread. Vaccination and novel therapeutics were created but their development was stalled due to the lack of a potential economic marketplace.
Ebola in West Africa in 2014 is different. It has been largely a disease of the inner city, where control measures were not in place and healthcare infrastructure is lacking. Initial cases were noted last December. The disease seem to take hold when, in March, infected patients from Gueckedou, Guinea returned west and brought the disease to Conakry, the country's capital. The spread of disease has since affected Sierra Leone, Liberia, and now Mali.
Pillars of EBV Control
I. Contact tracing and case finding
II. Early isolation
III. Clinical care
IV. Safe treatment of the dead
How is Ebola Transmitted?
Ebola is transmitted through infectious body fluids such as emesis, diarrhea, sweat
The sicker patients are typically more infectious
Casual contact can transmit the disease, but is probably the wrong message to be spreading. Casual contact can result in transmission when the patient is seriously ill. Casual contact in early stages is unlikely to result in spread of disease       (see Table 2 below, from Dowell SF, Mukunu R, Ksiazek TG, Khan AS, Rollin PE, Peters CJ. Transmission of Ebola hemorrhagic fever: a study of risk factors in family members, Kikwit, Democratic Republic of the Congo, 1995. Commission de Lutte contre les Epidémies à Kikwit. J Infect Dis. 1999;179 Suppl 1:S87-91.)
Fomite transmission is less likely, but precautions should be taken
Airborne transmission is unconfirmed; many patients in west Africa are not receiving administration of high flow oxygen, endotracheal intubation, and suctioning that they might receive in resource-able settings.
We don't know how Ebola will be transmitted in modern health care settings.
Close contacts and HCW are most at risk. Most transmission is

DIRECT CONTACT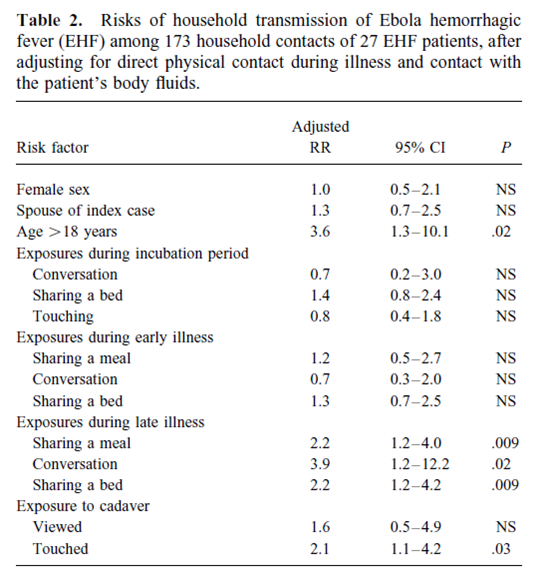 Principles of Personal Protective Equipment (PPE)
1. Don't go in and out of the care area frequently
2. High levels of PPE early in disease and during severe illness
3. 100% discipline in donning and doffing – active safety officer
4. Chest, abdomen, gloves, and boots are most likely to be contaminated
Making the Diagnosis
Screening – CDC guidelines, a starting point
Diagnosis –  requires special handling. Done by PCR at state lab or CDC. Need more sensitive tests for rule outs
Isolation – No travelling or diagnostic studies. Limited POC labs. Diagnostic imaging with bedside US
Treatment – Oral rehydration, ACT for malaria, antibiotics (ceftriaxone or Cipro) for possible bacterial translocation
Rubinson's Principles for Ebola Care
1. The number of personnel entering the room should be minimized.
2. Exposure should be minimized by having no 'routine' assessments for patients. Exams should be on-demand.
3. There should be no emergencies. Plan ahead for procedures and interventions.
4. Procedures should be pre-briefed, choreographed, and done by experienced team-players.
5. Novel therapeutics should be used in conjunction with a clinical trial.
6. Limited organ support is reasonable, but many interventions will put staff at high risk.