Dr. Megan Brenner is currently one of the leaders in the development of Resuscitative Endovascular Balloon Occlusion of the Aorta (REBOA).  As a trained trauma, critical care, and vascular surgeon Dr. Brenner is actively developing the integration of REBOA here at the Shock Trauma Center and the University of Maryland for both trauma and medical patients experiencing massive hemorrhage.  During this talk Dr. Brenner discusses her experience with REBOA, its indications, potential uses, and why she believes this is a critically important tool for all resuscitationists to learn.

Podcast: Play in new window | Download
Subscribe: Apple Podcasts | Android | RSS
Lecture Key Points
Indication:  Exsaguinating hemorrhage below the diaphragm (blunt/penetrating trauma, non-traumatic bleeding)
Problem:  Cross-clamping the Aorta does not usually end well
Solution:  Endovascular occlusion (REBOA) prevents a morbid surgery and buys time for definitive repair.  Needs to be performed by bedside providers!
We're behind in the US!  Currently, REBOA can only be inserted by femoral cutdown since the FDA has only approved a vascular catheter that can fit through a 12 Fr arterial sheath.  This size sheath requires a surgical vascular repair.
For the trauma patient, you only need 3 diagnostic tests prior to considering REBOA
CXR
Pelvic XR
FAST exam
Current algorithm here at STC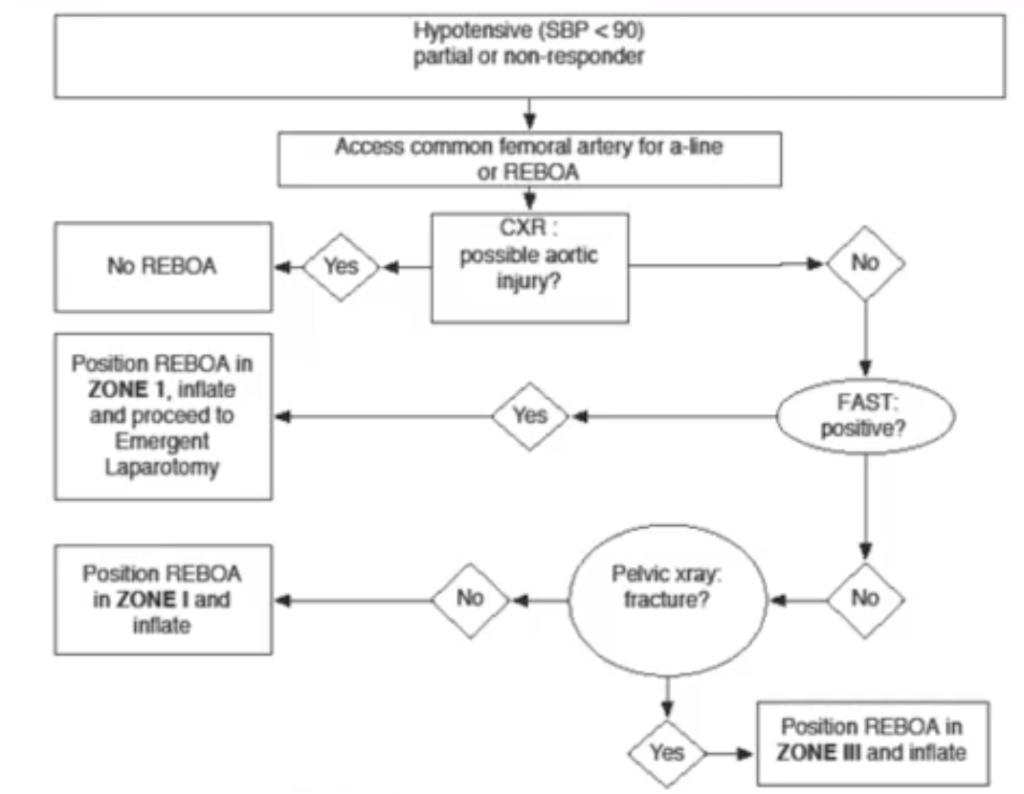 Balloon Landing Zones
The BEST Course: If you are a surgeon interested in coming to Baltimore and attending the Basic Endovascular Skills for Trauma course at the Shock Trauma Center, email BEST@umm.edu for dates and information.