The Case: 
64 yo M veteran smoker w PMH severe COPD on 4L O2 by NC, pAfib on AC, admitted in December for progressive dyspnea over weeks, found to have a bronchus intermedius obstruction due to extrinsic compression from a NSCLC mass near the right hilum.  
Portable CXR on admission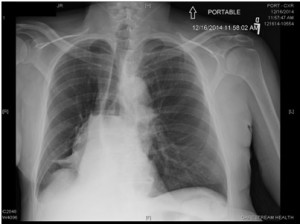 Portable CXR 3 days later
Basic Statistics on Morbidity & Mortality in NSCLC

5 yr Survival NSCLC (w Rx):

Stage I: 60-80%
Stage II: 40-50%
Stage III: 10-20%
Stage IV: <<10%

40-85% of NSCLC patients will have symptoms related to the primary tumor.

Cough, dyspnea, wheeze, hemoptysis

QoL is influenced by:

Tumor itself
Metastases
Treatment
Paraneoplastic syndromes

Indications for airway stenting are:

Extrinsic stenosis of central airways with or without intraluminal components due to malignant or benign disorders
Complex, inoperable tracheobronchial strictures
Tracheobronchial malacia
Palliation of recurrent intraluminal tumor growth
Central airway fistulae (esophagus, mediastinum, pleura)

Contraindications

Nonviable lung is present beyond the obstruction
Extrinsic compression of an airway by a vessel

Stent related complications

Displacement
Mucus impaction
Granuloma formation at stent ends
Re-obstruction by tumor
Halitosis
Infection
Perforation of airway walls
Hemoptysis
Pain
Cough
Fire (during laser resection)
NOTE:  No prospective, randomized trials exist on the utility of palliative stenting for proximal airways obstruction for obvious ethical reasons.  The following conclusions were drawn from single-center prospective cohort / observational studies published in the literature about their centers' experience with these patients and their centers' available interventions.
Conclusions
Interventional Pulmonology procedures (such as stenting) should be considered for palliation of large airway obstruction in malignant disease
Patients can anticipate an improvement in dyspnea and spirometric measures, but overall QoL is not as clear
Complications are not rare, but most patients demonstrate overall benefit from intervention.
With achieved airway patency, mortality approximates that of patients without previous obstruction.  However, no center to date has evaluated the impact of large airway stenting versus not-stenting on mortality from malignant endotracheal or endobronchial obstruction.  One can imagine the challenging ethical issues regarding this.
žReferences
—Bollinger et al.  ERS/ATS statement on interventional pulmonology.  Eur Respir J 2002; 19: 356-373
—Chhajed PN, Baty F, Pless M, et al. Outcome of treated advance non-small cell lung cancer with and without airway obstruction. Chest 2006;130:1803–7.
—Ferrell et al. Palliative Care in Lung Cancer.  Surg Clin North Am. 2011 April ; 91(2): 403–ix.
—Amjadi et al. Impact of Interventional Bronchoscopy on Quality of Life in Malignant Airway Obstruction.  Respiration 2008; 76: 421-428.