While in the ICU, you get a phone call to see a 59 year-old patient on the floor with respiratory distress.  She was just admitted to the hospital and diagnosed with TTP (platelet count of 1,000) and now has a swollen tongue. When you walk into the room the patient is lying in bed and somewhat agitated.  Breath sounds are clear bilaterally.  No reasons for angioedema.  Patient just appears to have a bad mucositis.  You quickly recognize this patient needs to be intubated – but how?
Here is your airway…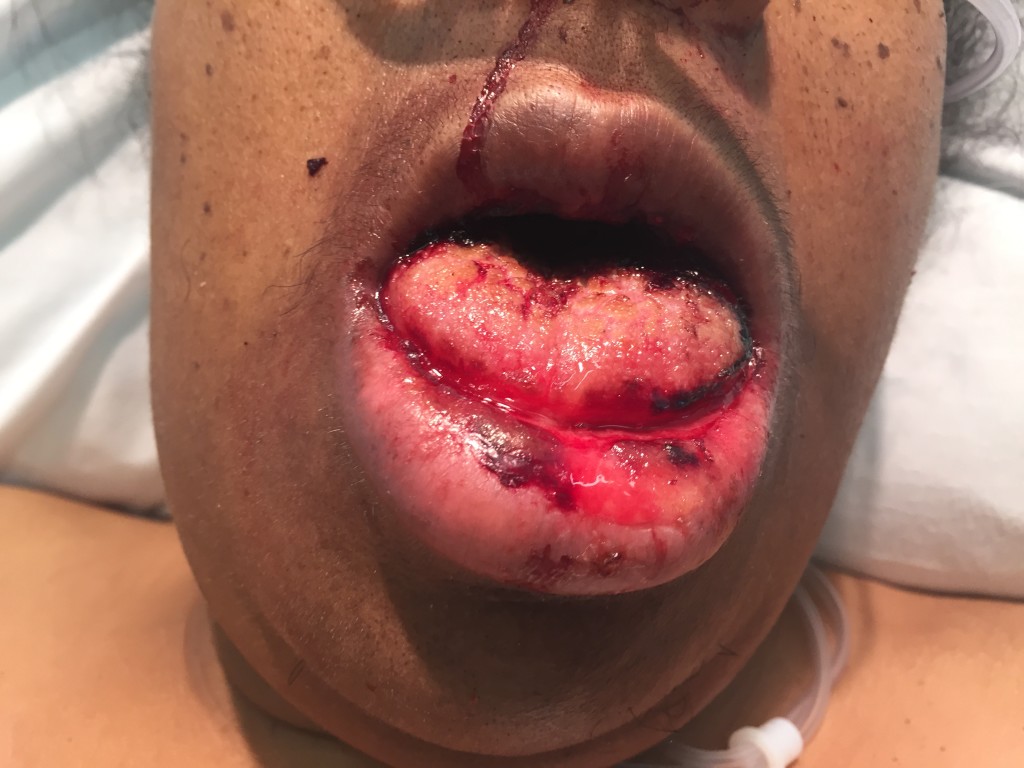 Initial Approach & Resuscitation
Positioning: Probably one of the most critical first interventions is to sit the patient up (90 degrees if possible) to move the tongue away from the posterior pharynx.  This will often buy you time to assemble the team and necessary supplies to secure the patient's airway.  Put on some nasal cannula prongs (or a NRB) and get on your way to the resus room. Start your adjuncts (steroids, benadryl, ranitidine, maybe epi if you think this is anaphylaxis).
PACE Review:  While moving the patient to the resus room, mentally review your  (Primary, Alternative, Contingency, and Escape) plan, as well as how & when you will proceed down the algorithm. On arrival, it's imperative that you discuss your PACE with the team to make sure things should move more efficiently.  What was our PACE?

Primary: Video awake intubation
Alternative: Direct laryngoscopy/LMA
Contingency: Cricothyrotomy
Escape: ENT physician was notified and readily available

Prepare Your Team:  The next critical step is to calm the room.  As with all resuscitations, kick out everyone who doesn't belong in the room.  Quickly discuss your plan with the team.  Make sure you assign all roles (1 person to manage the ventilator, retrieve medications, airway equipment, and a surgical tray).  Avoid just asking for things, this is a classic resuscitation error and a great way to ensure nothing gets done.  Look team members in the eye and assign them a role.
Approaching Your Airway
Equipment and things to consider

This is a double set up, no questions asked
Local anesthesia:  4% lidocaine neb (10 mLs), lido lollypops are a go
Sedation choice: Ketamine vs. Dexmedetomidine
First look choice: Going with video here in an attempt to minimize airway trauma and manipulation
Fiberoptic is currently not available.

Double set up 

Big fan of the CriCON approach – using the CricCON2 organization I think we're "safely" in the risky zone.  Welcome her to the resuscitation room with a gentle laryngeal handshake and be prepared to perform a surgical airway.   Obviously, I have as much interest in performing a cric on a patient with a platelet count of 1,000 as managing a car accident involving a bus full of hemophiliacs, but it's important to engage the patient's landmarks and put a nice, bold "+" where you would need to go.
Critical point:  Once you mark, maintain the patient's position!  There is a large amount of variability in the skin to cricothyroid membrane relationship!!!

CTM Movement from MarylandCCProject.org on Vimeo.

I have a scalpel, bougie, and my airways ready to go (6-0 Shiley, and a series of ETTs 6-0, 7-0, & 8-0).
Local Anesthesia

Lower airways: 4% lidocaine solution neb (10 mLs) that ran for about 5-7 minutes to topicalize the lower airways while the team continued to prep the patient.
Posterior pharynx: Once that completed, I got some 2% lidocaine gel and placed it on the back of the patient's tongue with some tongue depressors.

Sedation Options

Ketamine: 0.5 – 1 mg/kg IV should provide enough dissociation to easily do the procedure.  But here's the wrinkle… patient's HR jumped to about 150 after the lido nebs (sinus tach).  Some offer that ketamine may increase salivation, but that appears to be dogma unless you are using surgical doses for dogs or raccoons.  Other option…
Dexmedetomidine: 1 mcg/kg given over 10 minutes (rate) was what we went with… in about 5 minutes, the patient was calm (HR down to the 90's) and still spontaneously breathing.  (Bergese, 2010; Bergese 2010; Chu 2010; Tsai 2010)

Video vs. Direct vs. Fiberoptic

Well… no fiberoptic here but video seemed to be the next best option.  Had time to slide down the tongue without much oral manipulation. Cons – if we do start bleeding visualization could go down the tubes…
Resolution
Patient was intubated successfully in the sitting position with a slow, careful approach.  The dex seemed to provide adequate sedation and topicalization seemed good.  No bleeding occurred and the patient's neck was left in tact.
What would you do differently?  Leave your comments below!!
References
Bergese SD, Patrick bender S, Mcsweeney TD, Fernandez S, Dzwonczyk R, Sage K. A comparative study of dexmedetomidine with midazolam and midazolam alone for sedation during elective awake fiberoptic intubation. J Clin Anesth. 2010;22(1):35-40.
Bergese SD, Candiotti KA, Bokesch PM, et al. A Phase IIIb, randomized, double-blind, placebo-controlled, multicenter study evaluating the safety and efficacy of dexmedetomidine for sedation during awake fiberoptic intubation. Am J Ther. 2010;17(6):586-95.
Chu KS, Wang FY, Hsu HT, Lu IC, Wang HM, Tsai CJ. The effectiveness of dexmedetomidine infusion for sedating oral cancer patients undergoing awake fibreoptic nasal intubation. Eur J Anaesthesiol. 2010;27(1):36-40.
Tsai CJ, Chu KS, Chen TI, Lu DV, Wang HM, Lu IC. A comparison of the effectiveness of dexmedetomidine versus propofol target-controlled infusion for sedation during fibreoptic nasotracheal intubation. Anaesthesia. 2010;65(3):254-9.