Welcome to a momentous occasion for MCCP. Today we have Dr. Rahul Nanchal, the co-Chair of both the SCCM and ESICM task force on hepatic failure in the ICU; making him one of the world's foremost experts in the field of liver failure! Dr. Nanchal visits from the Medical College of Wisconsin where he has both an Associate Professorship in Pulmonary and Critical Care Medicine and acts as the medical ICU director. Dr. Nanchal is also well published in the field and is currently the principle investigator for the novel use of extracorporeal liver assist devices in acute decompensated alcohol induced liver failure. We are very fortunate that even with his busy schedule he was able to stay in Baltimore long enough to impart his many years of knowledge and wisdom in one amazing lecture. If you ever plan to correctly treat the cirrhotic in your ICU you CANNOT MISS this talk!
Podcast: Play in new window | Download
Subscribe: Apple Podcasts | Android | RSS
#1 Principle: Vasodilated State
↑ portal venous pressure → ↑ splanchnic vasodilation → ↑ splanchnic flow → ↑ splanchnic pressure → ↑ splanchnic shunts  → ↑ portal venous pressure…. and repeat to decompensation….

#2 Principle: Complicated Hemodynamic State
Significantly decreased effective blood volume

Any additional loss of vascular tone/volume (sepsis, GIB, overdiuresis) leads to

SIGNIFICANT organ dysfunction

!

Baseline MAP is decreased

difficult to define sepsis, shock, hypotension

Abnormal lactic acid and ScVO2 values are the norm
Cirrhotic cardiomyopathy with depressed systolic and diastolic function is common
Adrenal insufficiency is nearly expected with significant liver dysfunction further complicating management
#3 Principle: You must recognize Acute decomposition of Chronic disease!
An acute drop in baseline liver function should start the investigation for infection (#1 cause!)

If caught early and treated aggressively there is reversibility (but never to baseline!)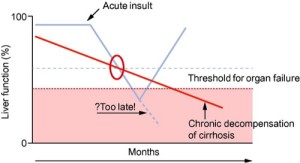 Jalan, et al. Journal of Hepatology 2012 57, 1336-1348
Diagnosis

Worsened coagulopathy (INR >1.5)
Encephalopathy (

NO cerebral edema!

)
Pre-existing liver disease
Illness duration < 26 weeks
New organ failure (AKI is #1) 

Mortality at 3 months is 33% compared to 2% at baseline (source)
#4 Principle: Infections are the #1 cause of mortality
UTI: #1 infectious cause of decompensation

most nosocomial and preventable (catheter hygiene)

SBP: Traditionally > 250 PMNs in ascites, however

<250 PMNs diagnostic if gram positive is source

!

Hemorrhagic (>10k RBCs): subtract 1 PMN for each 250 RBCs
Nosocomial SBP (>48 hours hospitalization) needs abx escalation as MDR bacteria is common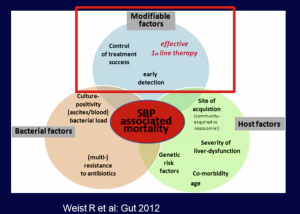 C. diff: #1 infectious cause of mortality 
Antibiotic choice is important! (source)

1/4 of patients are placed on wrong initial antibiotic

(8% never get proper abx!)
Median time to abx: ~7.5 hours!
Mortality >75% if incorrect abx chosen!
#5 Principle: Acute Kidney Injury is just the beginning
AKI: most common extra hepatic injury and a major contributor to mortality

Most commonly caused by infection (#1 SBP)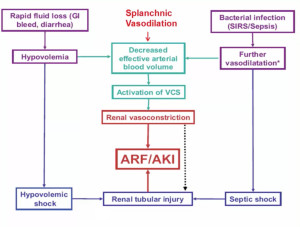 Garcia-tsao et al. Hepatology 2008; 48:2064
Compromised platelet function

and severely elevated

anion gap metabolic acidosis

are common
Hepatic-Renal Syndrome is difficult to diagnose as creatinine and FENa are nearly impossible to interpret

Often a diagnosis of exclusion
Tx with vasoconstrictors (Terlipressin or Midodrine/Octreotide) + Albumin (volume effect + anti-oxidant)
If RRT is needed > 6-8 weeks,

hepato-renal transplantation

may be only cure
Mortality is 10x higher if renal function never recovers
#6 Principle: Recognize the early signs of GI disease states
Varices:

Size, Red Whale sign, and Child class B/C

is predictive of bleeding

Tx with RBC conservatively (unless hemorrhaging, keep hgb ~ 7.0)
ALWAYS give abx! Prevent both SBP and re-bleed!
Tx with vasopressors early (Vasopressin, Octreotide, Somatostatin)

IAH: IAP >12 mmHg       vs.       ACS: IAP >20mmHg

Regardless of the level, treat aggressively as both states can worsen AKI and increase mortality

Ileus is common with lactulose, a better alternative for critically ill pts is PEG bowel prep (better outcomes)
#7 Principle: Pulmonary insults are VERY common
Hepatopulmonary Syndrome (HPS) 

Vasodilators from hepatic circulation (NO) → pulmonary vasodilation →  O2 diffusion impairment
Hypoxemic w/o radiological changes

Platypnea + Orthodeoxia (SOB and hypoxic when standing) due to preferential basilar vasodilation

10-32% prevalence
RA PO2 <50 mmHg = Increased mortality  
Dx by TTE: look for late bubbles on study
Reversible by liver transplant

Portal Pulmonary HTN

↑  risk of acute RV failure with TIPS!! 
Will NOT reverse with liver transplant

Hepatic Hydrothorax

Diaphragmatic defect → Ascites in thoracic cavity

Can get SBP of this fluid (same dx criteria)
Tx with drain, TIPS, or Pleurex catheter