Today we are privileged to welcome Dr. Melissa Motta, Assistant Professor of Neurology and a mainstay in the Neuro-Critical Care Unit here at the University of Maryland. Dr. Motta has an extensive research background on the topics of rehab and quality of life improvement after an acute stroke and has published numerous papers that have revolutionized the field. Over the last several years she has compiled all current research on the treatment of acute ischemic stroke and was gracious enough to share a summary of this information over the next 50 minutes. If you come across stroke patients in your daily practice, then this talk cannot be missed!
Lecture Summary
Over the last several months there has been an explosion of RCTs providing level 1 evidence supporting the use of endovascular devices
#1 factor that determines a successful stroke eval is brevity

Hx, Head CT, and blood glucose

is all that is needed
The faster the decision can be made for tPA, the better!

#2 factor to remember is to do the NIHSS, as this is used to follow stroke progression (as important and simple as GCS with practice)
Reperfusion Therapy- tPA
Need: Ischemic stroke, <4.5 hrs since symptom onset, w/o any reason to bleed in an uncontrolled manner (constitutes nearly all exclusions)
IV tPA NNT: 8.3 to achieve normal state, but only 3.1 to improve Rankins and allow a better QOL

of 100 treated, 32 benefit and 3 are harmed

Time = Brain
Endovascular Treatment
Only proximal lesions, ICA or M1 region of MCA, have been studied, but nearly any accessible vessel is a candidate
Need: <6hrs since onset, proximal clot visible on CTA, tx with systemic tPA in under 4.5 hrs

Stent retrievers are more successful than coil retrievers as stents allow earlier perfusion

Modern studies have shown that if done in time windows, all pts improve and all have no significant risk of bleed!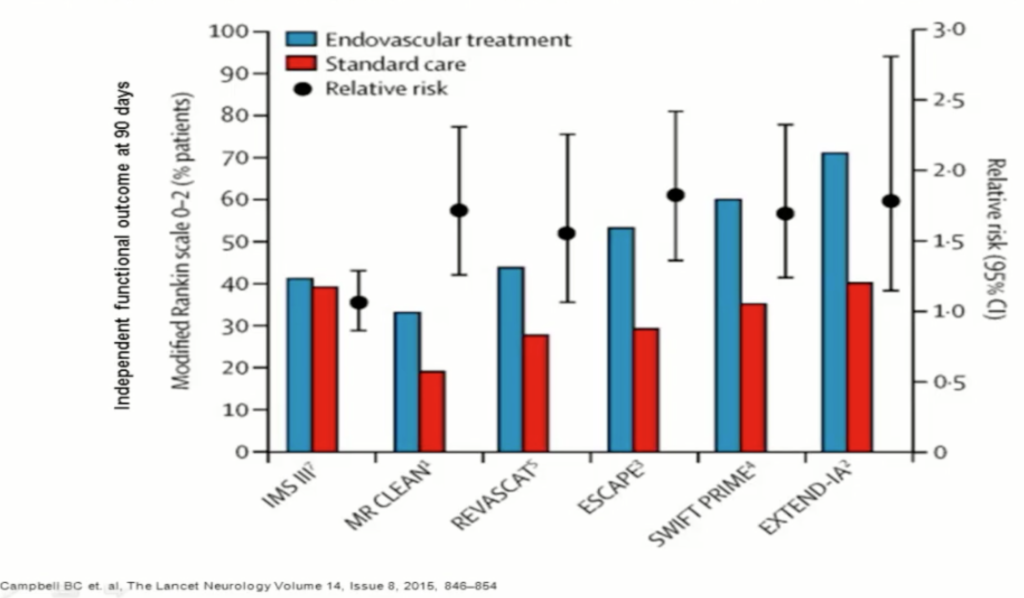 There is also an issue with the level of infarct deciding potential candidates, one factor is to calculate the ASPECTS score on initial dry head CT.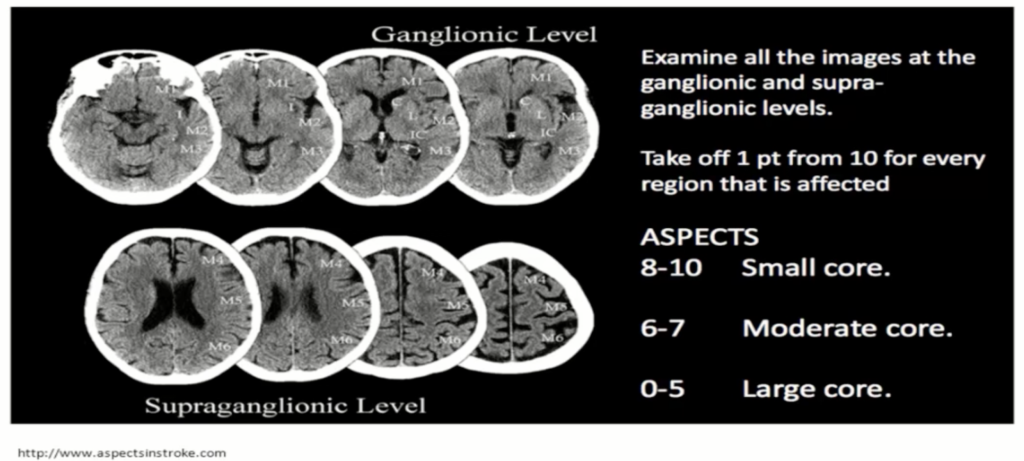 Post-CVA Care 
BP goals:

w/o tPA <220/120
W/ tPA <180/105

ASA to ALL pts
Watch for signs of morbidity, #1: PNA
Watch for malignant infarction

risk factors: day 3-7, early perfusion used, young, female, large CVA
Only proven therapy: hemi-craniectomy (NNT: 2 to save a life)

Still no consensus way to tx post-tPA hemorrhage
Suggested Reading
Prabhakaran S, Ruff I, Bernstein RA. Acute stroke intervention: a systematic review. JAMA. 2015 Apr 14;313(14):1451-62. [Pubmed Link]
Campbell BC, Donnan GA, Lees KR, Hacke W, Khatri P, Hill MD, Goyal M, Mitchell PJ, Saver JL, Diener HC, Davis SM. Endovascular stent thrombectomy: the new standard of care for large vessel ischaemic stroke. Lancet Neurol. 2015 Aug;14(8):846-54. [PubMed Link]
Powers WJ, Derdeyn CP, Biller J, Coffey CS, Hoh BL, Jauch EC, Johnston KC, Johnston SC, Khalessi AA, Kidwell CS, Meschia JF, Ovbiagele B, Yavagal DR; 2015 AHA/ASA Focused Update of the 2013 Guidelines for the Early Management of Patients With Acute Ischemic Stroke Regarding Endovascular Treatment: A Guideline for Healthcare Professionals From the American Heart Association/American Stroke Association. Stroke. 2015 Jun 29. [Pubmed Link]