Today we would like to welcome Dr. Megan Anders, Assistant Professor of Anesthesiology at the University of Maryland and QA/QI guru! In fact, her most recent quality improvement project involved analyzing the failures of tracheostomy management in the ICU and has led to a significant improvements at every level of care! Today she is gracious enough to take on such an arduous task of summarizing the diverse and complicated process of making global changes to the way we practice medicine.

Anders QA QI 2015 from maryland.ccproject.com on Vimeo.
Podcast: Play in new window | Download
Subscribe: Apple Podcasts | Android | RSS
Lecture Summary
(Pearls Provided by Dr. Faith Armstrong, UMMC Critical Care Medicine Fellow)
Terms
QA: Measures against a standard, looks at events on an individual level
QI: An active broad view of events that measure the same things as QA, but also actively look for solutions and look beyond the individual
We need to strive for a "Learning System"
Look for defects in every day operations
QI is part of a unit/team's daily work, not just a one time "QI project"…we need to have continuous learning and not isolated projects
Quality Trilogy
Quality Planning

: developing a new process

Quality Control

: looking at whether that new process gives the intended outcome

Quality Improvement

: what can we do to make it better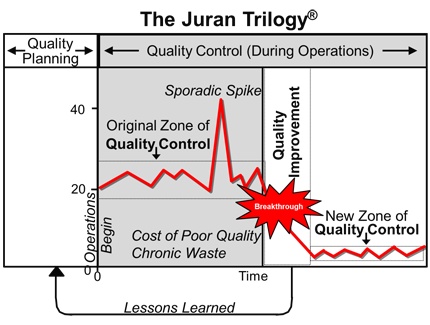 Patient Safety Culture: Core values & behaviors of leaders/individuals that emphasize safety over other competing goals
Understand the culture you're working in
A culture focused on patient safety can improve patient AND staff satisfaction
Quick Facts!
Select a change that is useful, NOT perfect
ADAPT from other institutions/floors/teams and don't just copy
Avoid low-impact changes (posters, education symposiums)
Think about the size of the project…sometimes you must test small to ensure it's a reasonable solution