Today we are fortunate to welcome Meghan Brooks Lane-Fall, MD, MSHP all the way down from Philadelphia! Dr. Lane-Fall is an Assistant Professor of Anesthesiology and Critical Care at the Hospital of the University of Pennsylvania and one of the world's experts on what happens to your patient's after they leave the ICU. She has published numerous papers on the topic and is THE GURU on improving transitions of care. She has perfected the art of transitioning care between physicians, and today she will delve into the complicated topic of transitioning patients from their ICU bed all the way to their trip home with family. This is a VERY hot topic and one that will truly change the future of ICU medicine!!
Clinical Pearls: Thanks to Jessica Buchner, MD
Definition: new or worsened health problems after critical illness that remain after the patient leaves the hospital. Can affect the patient and/or his family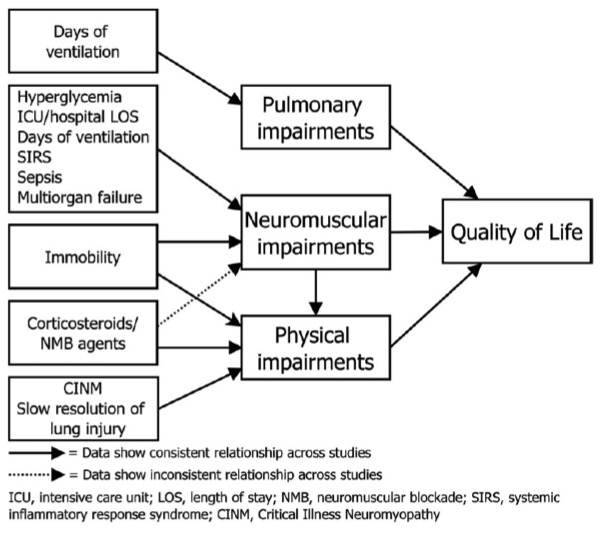 Desai SV et al, Crit Care Med, 2011 
Triad:
Physical impairment: anorexia, decreased dexterity, low exercise tolerance, weakness (critical illness neuromyopathy, myopathy, neuropathy).

Causes: bedrest/disuse atrophy, hyperglycemia, neuromuscular blocker use, steroid use

Cognitive impairment: attention deficits, memory loss, executive function impairment

Causes: anxiety, pain, sedation, delirium, hypoxemia, hypoglycemia

Mental health problems: anhedonia, anxiety, depression, PTSD
*All lead to decreased quality of life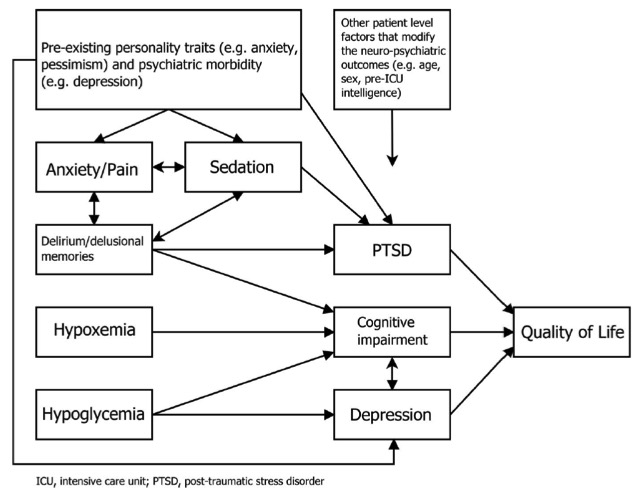 Desai SV et al, Crit Care Med, 2011 
Triggers:
Patient-level: age, dementia, pre-ICU functional status, psychiatric history
Disease-related: admitting diagnosis, anemia, endocrinopathies, hypoxemia, infection, inflammation
ICU factors: immobility, invasive procedures, light, noise, sedation
Measuring outcomes:
Cognitive impairment: delirium assessment (CAM-ICU, ICDSC), neurocognitive assessments (intelligence, memory, orientation, attention, executive function)

Hopkins RO et al.: Looked at cognitive function of 94 ARDS survivors. Intelligence and memory testing: all survivors fell below mean at discharge and starting recovering at 1 and 2 years.

Physical functioning

: 6-minute walk test, pulmonary function testing, activities of daily living, instrumental ADLs, grip strength

Aitken LM et al.: 195 ICU survivors, 145 completed 6-minute walk test at 26 weeks. 94 improved, 51 did not

Mental health problems: measuring for depression, anxiety, PTSD.

Hospital anxiety and depression scale (HADS), Impact of event scale, Post-traumatic stress syndrome scale.
One multi-hospital study of 520 acute lung injury patients: 25% with depression, 40% with anxiety, 20% with PTSD. Symptoms continued for entire follow-up period of 24 months (no drop off in incidence)
Prevention:
Early physical mobility
Maintain cognitive stimulation
Re-orientation
Reassurance
Prevent pain/agitation/delirium
Mental health: ICU diaries, recreational therapy (music, pets), pharmacotherapy
Family experience after the ICU:
Emotional toll, physical toll, financial burden, competing priorities
Davydow DS et al.: 

Depression scores of spouses

of ICU patients with severe sepsis increase after ICU stay and remain elevated.
Management strategies:
In-patient Care: Nutritional counseling, speech therapy, physical therapy, counseling/psychotherapy, recreational therapy, occupational therapy
ICU follow-up clinics: non-attendance and cancellation rates are high, outcomes are mixed, appropriate population is unclear, follow-up intervals are unclear
Patients report somatic complaints: appetite loss, nail ridging, sexual dysfunction, hair loss
Financial consequences: in a Norwegian study of 194 patients only 55% had returned to work 1 year post ICU.
Suggested Reading
Davidson JE, et al. Post-intensive care syndrome: what it is and how to help prevent it. Am Nurse Today 2013;8:32–36. [American Nurse Today link]
Elliott, D, et al. Exploring the scope of post-intensive care syndrome therapy and care: Engagement of non-critical care providers and survivors in a second stakeholders meeting. Crit Care Med 2014;42:2518-2526.[PubMed Link]
Needham DM, et al. Improving long-term outcomes after discharge from intensive care unit: Report from a stakeholders' conference. Crit Care Med 2012;40:502–509.[PubMed Link]